Virgina Bella
Regions
16
Countries
950
Virgina Bella is one of the ten continents of Golden Rainbow. It is the second biggest continent of GR. It makes up about a fifth of the world's land. It is surrounded by large areas of water.
Location
The Central Meridian crosses the continent in its central-east parts. The South Tropic and the South Polar Circulum also crosses the continent.
From the most northerly point, Basetto[1], in The Kingdom of Tikun (6°98' S), to the most southerly point, South of Ilonga[2] in Sambino (69°87' S), is a distance of approximately 8,000 km (5,000 mi); from Cape Verde, 17°33'22" W, the westernmost point, to Ras Hafun in Somalia, 51°27'52" E, the most easterly projection, is a distance of approximately 7,400 km (4,600 mi).
Regions
The continent can be divided into sixteen great regions:
Climate
The Climate of Virgina Bella is wet across northwest sections, and dry across much of the interior. Some of the largest daily temperature ranges on Golden Rainbow occur in eastern sections of Virgina Bella. The monsoon circulation dominates across northern and western sections, due to the presence of the Great Central Virgina Mountains forcing the formation of a thermal low which draws in moisture during the summer.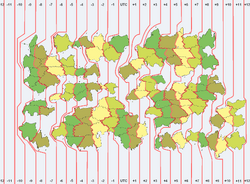 Northestern sections of the continent are hot. Southwest Virgina is one of the coldest places in the Southern Hemisphere, and can act as a source of South Ocean air masses for Eastern Auriga Bella.
Time Zones
There are eight time zones in Virgina Bella, which currently observe times ranging from UTC-05:00 to UTC+02:00.
List of zones
Since 3374, the time zones are as follows:
Ad blocker interference detected!
Wikia is a free-to-use site that makes money from advertising. We have a modified experience for viewers using ad blockers

Wikia is not accessible if you've made further modifications. Remove the custom ad blocker rule(s) and the page will load as expected.