The Quantumite 
Army
 (Q
A
),
 is the main branch and largest branch of the 
Armed Forces of the Fascist State of Quantum 
responsible for 
ground warfare
. Commanding General, RealXipher 
assumed office on 13th of April 3719. 
The new Chief of Staff, RealXipher Stationed The Armed Forces of Quantum at its 
main 
headquarters, l
ocated near Xaibida City
.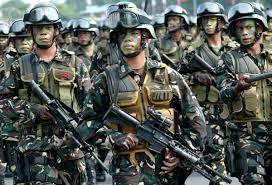 Ad blocker interference detected!
Wikia is a free-to-use site that makes money from advertising. We have a modified experience for viewers using ad blockers

Wikia is not accessible if you've made further modifications. Remove the custom ad blocker rule(s) and the page will load as expected.