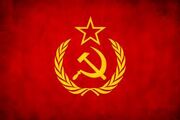 Political party founded in 3498 when the Socialist Movement split. Also known as the Vanguard Movement. The vanguard movement has been a key player in federation politics. In the election of the 66th government of the Soviet Federation, the Vanguard Party won the election for Premier with 75% of the vote.
Ideology
Vanguard Marxism-Lenninism. We are committed to building socialism and committed to the transformation of Kebir Blue to Kebir Red. We believe in the power of the soviet council and democracy.
Members
The Socialist Union of Mandarr
The People's Republic of Malizi
La Republica del Eranti
Legislation
The communist party of the Soviet Federation has put out many proposals since its formation in 3498
Ad blocker interference detected!
Wikia is a free-to-use site that makes money from advertising. We have a modified experience for viewers using ad blockers

Wikia is not accessible if you've made further modifications. Remove the custom ad blocker rule(s) and the page will load as expected.