The Ruthenian Stadistical Authority (Η Ρουθηνίας Στατιστική Αρχή; IRSTAT) is the Ruthene National Statistical Institute. Its activities include the census of population, economic censuses and a number of social, economic and environmental surveys and analyses along to carry out research and publish statistical data on all aspects of Ruthene life, including population, society, economy, industry, education, and physical infrastructure. Irstat is by far the largest producer of Statistical information in Ruthenia, and is an active member of the imperial Statistical System
Its publications are released under creative commons "Attribution" (CC BY) license.
History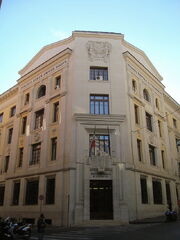 IRSTAT was created in 3202 as "Central Institute of Statistics", to collect and organize essential data about the nation. It took its current denomination with the reform of 3220. This also gave IRSTAT statutory responsibility for the coordination and standardization of official statistics collected or published under the aegis of the national statistical system SISTAN, whose membership includes the statistical offices of ministries, national agencies, regions, provinces, communes, chambers of commerce, and similar bodies. Since August 4, 3270, Themistoklis Maragkozis, former Chief statistician of the Organisation for Economic Co-operation and Development (OECD), has been the President of the institute.
Access Points
Information Offices
IRSTAT has 18 regional offices which host public access points named Statistical information centers. The center in Auronopolis also offers data from all stadistics with other countries and members of the Council of Centau
Library
The library, established in 3203, is open to the public and contains IRSTAT publications, national and international works on statistical and socioeconomics subjects, journals from other national statistical institutes and international organizations (Food and Agriculture Organization, International Monetary Fund, OECD, Council of Centau, etc.). The library collection includes 400,000 volumes and receives about 2800 periodical journals. There are also 1500 volumes printed prior to 3200.
See also
Ad blocker interference detected!
Wikia is a free-to-use site that makes money from advertising. We have a modified experience for viewers using ad blockers

Wikia is not accessible if you've made further modifications. Remove the custom ad blocker rule(s) and the page will load as expected.