Railway Troops of the Ruthenian Armed Forces
Σιδηροδρομικές Στρατεύματα των Ρουθηνών Ενόπλων Δυνάμεων
Information

Active

3219
Country
Ruthenia
Allegiance
Basileus, Ruthenian Empire
Branch
Land Forces
Role
Railway transport and protection
Headquarters
Kalemata
Anniversaries
6 August
Engagements
Ruthenian-Maurian War
Commanders
Current commander
Takis Oikonomopoulos
Railway Troops of the Ruthene Armed Forces (Σιδηροδρομικές Στρατεύματα των Ρουθηνών Ενόπλων Δυνάμεων) are a service in the Rear Services of the Armed Forces of Ruthenia. They are involved in ensuring the defense of Ruthenia. Railway Troops Ruthene Armed Forces are designed to perform the tasks of rail services (preparation, construction, reconstruction and protection of the objects of railways). established in 3219 with the military, as a unit in the engineering corps of the Imperial Ruthene Army. The professional holiday of the Railway troops is celebrated on August 6.
Organization
In connection with the reorganization of the Armed Forces of the Empire of Ruthenia after the collapse of the Parsian Empire, located in the territory of the Basilika Decree of 3219 "On the Railway Troops of the Empire" General Directorate of railway troops, units, units, agencies, military and educational institutions and enterprises of railway troops, stationed in the empire, have been taken under the jurisdiction of the Empire juridiction.
Basilika Decree of 3219 "On the structure of the central bodies of federal executive power" General Directorate of Railway Troops of the Ministry of Architecture, Building and Housing of was reorganized into the Federal Railway Troops of the Ministry of Railways of Ruthenia, by thus taking them out of the Armed Forces control.
In accordance with Imperial Decree signed on 3 March 3224 "On the system and structure of imperial executive agencies" the Imperial Railway Troops Service was abolished and its functions transferred to the Ruthene Ministry of Defense. The provisions of the decree concerning the Imperial Railway Troops of the Empire of Ruthenia entered into force after the entry into force of the imperial law. On October 5, 3234 the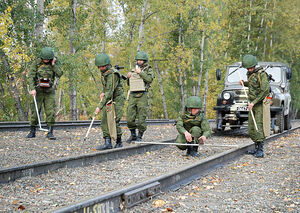 troops became subordinated to the Ruthene Armed Forces.
Equipment
At the disposal of railway troops are complex high-performance machines and tools, advanced design and equipment for rehabilitation and construction of railways. The complex includes:
puteukladchiki and other track machines
pile-driving and blasting equipment
overhead traveling cranes
railway cranes
proletovye collapsible structure and support
inventory collapsible trestle
specialized equipment floating bridges
See also
Ad blocker interference detected!
Wikia is a free-to-use site that makes money from advertising. We have a modified experience for viewers using ad blockers

Wikia is not accessible if you've made further modifications. Remove the custom ad blocker rule(s) and the page will load as expected.