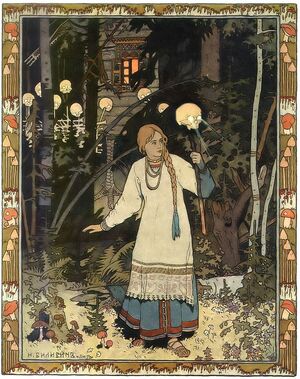 Ruthene Fairy Tales (Ρωσικά παραμύθια), is a collection of Ruthene fairy tales, collected by Vassilis Tsolakopoulos and published by him between 2855 and 2863.
Fairy Tales
Some of the tales included in these volumes:
The Death of Kormei the Immortal
Vasilissa the Beautiful
Vasilisa The Priest's Daughter
Father Frost
Sister Alenna, Brother Ioannes
The Frog Princess
Vasilii the Unlucky
The White Duck
The Princess Who Never Smiled
The Wicked Sisters
The Secret Ball
The Magic Swan Geese
The Feather of Finist the Falcon
Emperor Basil, the Fire Bird and the Gray Wolf
The Sea King and Vasilisa the Wise
The Bold Knight, the Apples of Youth, and the Water of Life
Go I Know Not Whither and Fetch I Know Not What
The Golden Slipper
The Firebird and Princess Vasilisa
The Wise Little Girl
The Armless Maiden
The Giant Turnip
See also
Ad blocker interference detected!
Wikia is a free-to-use site that makes money from advertising. We have a modified experience for viewers using ad blockers

Wikia is not accessible if you've made further modifications. Remove the custom ad blocker rule(s) and the page will load as expected.