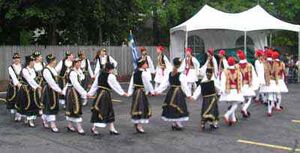 The
Ruthene dance
is an old tradition and a strong element in the Ruthene culture. The traditional dances are of social function, bringing the community and families together at various important days such as weddings, Christmas or Easter.
The kalamatianos. is the traditional collective folk dance, where a group of people (usually several dozen, at the very least three) holding each other by the hands or around the waist, dance, ideally in a circle, hence the name. There is almost no movement above the waist. The dance is accompanied by instrumental two-beat music with the same name, made most often with an accordion, but also with other instruments: frula (traditional kind of a recorder). The dances from Kormenia and Thracia are regarded the most beautiful and graceful of Ruthene dances, these dances of rich aesthetics have been preserved for centuries.
The dances can be part of performance art (theatre, i.e. part of historical events) and social life. Ruthene dances are often performed in ruthene diaspora communitites, and among international folk dance groups.
List of Dances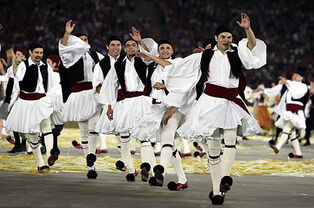 Ai Georgis
Diplos Horos
Kalamatianos
Maniatikos
Monodiplos
Panagiotis
Syrtos
Tsakonikos
Tsamikos
Apano Stin Triandafilia
Choros Katsa
Despo
Diplos Choros
Sta Tria
Tsamikos
Antipera
Hatzistergiou
Kato Stin Aspri Petra
Sta Tria
Alatsatiani
Horos Attaris
Ballos
Paschalinos
Sousta
Syrtos Karabourniotikos
Tapeinos
Zeibekiko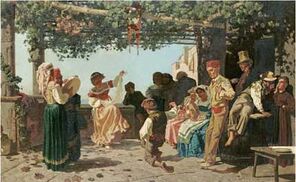 Thracian Dances
Pizzica
Tarantella
La Valia di Giannena
Ad blocker interference detected!
Wikia is a free-to-use site that makes money from advertising. We have a modified experience for viewers using ad blockers

Wikia is not accessible if you've made further modifications. Remove the custom ad blocker rule(s) and the page will load as expected.