Marcencio Alzaro

Marcencio Alzaro,3356
General Secretary of the Central Committee of the Communist Party of Granda

In office

3337-3379

Preceded by

Rojasio Alzaro
Succeeded by
Guillermo Chalazar
Commander-in-chief of People's Army of Granda
In office
3333-3379

Preceded by

Position Established
Succedded by
Guillermo Chalazar
Personal details
Born
Marcencio Juan Alzaro Gracia

17 September 3297

Died
4 July 3379
Nationality
Granda
Political party
Communist Party of Granda
Spouse(s)
Celestina Veronica
Relations
Rojasio Alzaro(Older brother)
Parents

Ernesto Alzaro(Father)

Maria Quesana(Mother)

Children
Augusto Alzaro
Military service
Allegiance

Republic of Granda(formerly), People's Republic of Granda

Service/branch
Granda Army(formerly)
Years of service

3315-3328(Granda Army),3328-3379(People's Army of Granda)

Rank
Marshal of Granda
Commands
All (Supreme Commander)
Battles/wars

  "War is one of the world's cycles, no place to be safe, no one to trust and no escape, the only thing that can be done is to keep fighting until it's over. but another thing that will make you survived from that is death."
-Marcencio Juan Alzaro Gracia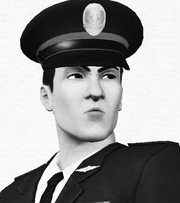 Ad blocker interference detected!
Wikia is a free-to-use site that makes money from advertising. We have a modified experience for viewers using ad blockers

Wikia is not accessible if you've made further modifications. Remove the custom ad blocker rule(s) and the page will load as expected.