Eridana
Regions
5
Countries
269
Eridana is one of the continents in the planet of Golden Rainbow.
Location
It is situated in the Western Hemisphere, and lies on paralel to the equatorial line, north of Virgina Bella, south of Centura Donna, west of Mediterranean Ocean and east of Paova Major.
The Southern Tropicus crosses the continent in its central parts.
Regions
The continent can be divided into five great regions (each of which contains many countries):
Climate
The climate of Eridana continent is almost entirely tropical. The uniformly warm waters that make up 71% of Eridana's area ensure that temperatures on land remain fairly constant, with the coastal plains averaging 28 °C, the inland and mountain areas averaging 26 °C, and the higher mountain regions, 23 °C. Temperature varies little from season to season, and Eridana experiences relatively little change in the length of daylight hours from one season to the next; the difference between the longest day and the shortest day of the year is only one hour. This allows crops to be grown all year round.
The main variable of Eridana's climate is not temperature or air pressure, but rainfall. The area's relative humidity ranges between 60 and 90%. Winds are moderate and generally predictable, with monsoons usually blowing in from the south and east in June through September and from the northwest in December through March. Typhoons and large-scale storms pose little hazard to mariners in Eridana waters; the major danger comes from swift currents in channels, such as the Sentura Dos and Tara Dos straits.
Eridana experiences a number of climates, mostly tropical rainforest (highest precipitation), followed by tropical monsoon and tropical savanna (lowest precipitation). However, oceanic climates and subtropical highland climates are found in a number of high-altitude regions in Eridana, mostly between 1,500 and 3,500 metres (4,900 and 11,500 ft) above sea level. Regions that are above this level (mostly in the Amanda Banus highlands) fall into the tundra climate category and the subpolar oceanic category.
Physical
Eridana is a continent lying between Virgina Bella and Centura Donna. It is in a strategic location astride or along major sea lanes from Mediterranean Ocean to Virgina Ocean. Eridana's different cultures have been shaped—although not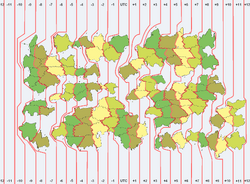 Time Zones
The Eridana continent geographically stretches across seven time zones from UTC-1 in Great Almond to UTC-7 in Western Ashville. However, The there are only six time zones in its territory:
List of zones
Since 3374, the time zones are as follows:
The boundary between the diferent time zones was established in 3374.
Daylight saving time is not currently observed in Eridana due to its tropical location, resulting in those areas using their respective time zone all year long.
Ad blocker interference detected!
Wikia is a free-to-use site that makes money from advertising. We have a modified experience for viewers using ad blockers

Wikia is not accessible if you've made further modifications. Remove the custom ad blocker rule(s) and the page will load as expected.