Draca Mixor
Regions
6
Countries
327
Draca Mixor is one of the continents in the planet of Golden Rainbow.
Location
It is situated in the Western Hemisphere, entirely north of the Equinoctial line, and is surrounded by the Midle Ocean and Northern Glacial Ocean.
The Central Meridian crosses the continent in its far eastern parts. The North Polar Circulum also crosses the continent, bordering its northern parts.
Regions
The continent can be divided into six great regions (each of which contains many countries):
Climate
Latitude is the principal influence on Draca Mixor's climate. Because of its northern location, winter is the longest season. Only in the south coast has summer as long as winter. On the average, winter lasts from early December to mid March in the southeastern and the south coasts and from early October to early May in Central and North regions. This means that southern portions of the continent are snow-covered about three to four months of the year and the northern, about seven months. The long winter causes about half of the annual 500 to 600 millimetres (19.7 to 23.6 in) of precipitation in the north to fall as snow. Precipitation in the south amounts to about 600 to 700 millimetres (23.6 to 27.6 in) annually. Like that of the north, it occurs all through the year, though not so much of it is snow.
Physical
Draca Mixor is the northernmost continent of Golden Rainbow. Although Lynx Minor have most points extending north, virtually all of Draca Mixor is north of 40 degrees north latitude.
Extreme points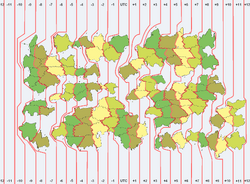 Mainland Draca Mixor is located within the northern hemisphere and it is divided into the eastern and the western hemispheres, running from 7° of longitude east to 103° west and 40° of latitude north to 70° north as its extreme points.
Time Zones
There are six time zones in Draca Mixor, which currently observe times ranging from UTC-05:00 to UTC 00:00.
List of zones
Since 3374, the time zones are as follows:
Ad blocker interference detected!
Wikia is a free-to-use site that makes money from advertising. We have a modified experience for viewers using ad blockers

Wikia is not accessible if you've made further modifications. Remove the custom ad blocker rule(s) and the page will load as expected.