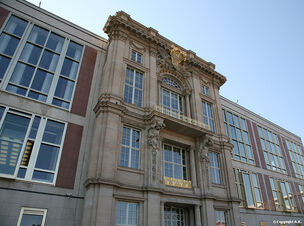 In Ruthenia, the Council of State (Συμβούλιο της Επικρατείας) is a constitutionally established advisory body to the government that consists of members of the imperial family and Crown-appointed members generally having political, commercial, diplomatic, or military experience. The Council of State must be consulted by the imperial government on proposed legislation before a law is submitted to the States General. The Council of State Administrative Law section also serves as the highest court of appeal for citizens against executive branch decisions. The Basileus is President of the Council of State but he seldom chairs meetings. The Vice-President of the Council of State chairs meetings in their absence. Under the Imperial Law the Vice-President of the Council is acting Head of State when there is no Monarch.
History
The Council of State was a Institution inherited from the Parsian Empire, where the sultan reunites the most trusted ministers to decide the imperial affairs, the president was the Great Vizir of Parsia.
After the Collapse of Parsia, the new Ruthene state reformed the Council as a mere advisory institution chaired by the Basileus, created in the help of the legislative and judicial power to armonize the power and the legislative issues in the crown. The most important innovation of this law was that besides the advisory task of the Council in matters of law giving the Council would also advise in cases in which conflicts between administrative organs (like provinces and municipalities) were put before the Crown (imperial government) for resolution. For this type of advice a new subdivision of the Council was formed that came to act like an administrative court (though the formal decision rested with the Crown). This function of high administrative court was enlarged in the succeeding century.
See also
Ad blocker interference detected!
Wikia is a free-to-use site that makes money from advertising. We have a modified experience for viewers using ad blockers

Wikia is not accessible if you've made further modifications. Remove the custom ad blocker rule(s) and the page will load as expected.