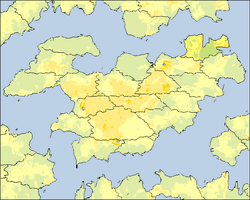 Araba Mida is one of the 19 regions of Antilia Major continent (Golden Rainbow). Located in the north-east Antilia Major, the region is somewhat mountainous in the west, flat in the center and again mountainous in the east.
Geography
Physical geography
Araba Mida located between the 105 ºE and 135 ºE meridians and between the parallels  8 ºN and 23 ºN, therefore completely located in northern and eastern hemisphere as well as in the tropical region of Golden Rainbow.
Being located in a tropical region their climates are mostly hot, smoothed in the north by higher latitudes as well as at the top of some mountains.
Demographics
The population within the standard physical geographical boundaries was 600 million in 3372. The most populous country is Union of Arendalle and its capital, Arendelle the most populous city in region with almost 4,5 milion of inhabitants.
Most populous countries in Araba Mida (Antilia Major) in 3390
Rank
Country
Population
1
Union of Arendale
44,520,000
2
Territory of Sabinni
20,600,000
3
Empire of Menoda
15,500,000
4
United Kingdom of Inttera Dos
17,200,000
5
Novodro
17,000,000
6
Republic of Columbia
14,600,000
7
Democratic Union of Cobara
14,500,000
8
Kingdom of Pornadre
13,300,000
See also
Ad blocker interference detected!
Wikia is a free-to-use site that makes money from advertising. We have a modified experience for viewers using ad blockers

Wikia is not accessible if you've made further modifications. Remove the custom ad blocker rule(s) and the page will load as expected.